About Cheers Connect
Cheers Connect is an integrated suite of productivity tools and services designed for everyone to use, from individuals to corporations, and aimed to augment relationships by empowering personalized and targeted videos.

Cheers allows you to stay connected with your target audience and increase awareness about your business, with it's unique features including video messages, detailed analytics, campaigns, and asset tagging.
Being feature rich, simple and easy to use! Cheers can be useful for personal, sales, marketing, training, technical support, team conversations, and many more.
The core of Cheers Connect is "Assets and Tags", the tool that stores your digital valuable safely and organize them by tags. Each tool in Cheers is individually focused on a purpose and all the services collectively serve a bigger picture.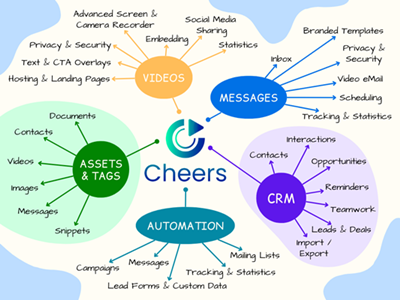 Stay connected with your loved ones, your team and your clients, spread awareness about your brand or your service, and grow your business safely and securely at no cost. Put yourself in front of your audience and keep your conversations going!

Start Connecting with Video Conservations!
---